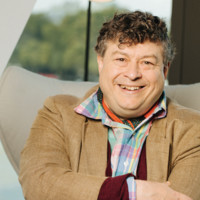 Rory Sutherland
Vice Chairman
Ogilvy UK
Rory is the Vice Chairman of Ogilvy in the UK, an attractively vague job title which has allowed him to co-found a behavioural science practice within the agency.
He works with a consulting practice of psychology graduates who look for 'unseenopportunities' in consumer behaviour - these are the very small contextual changes which can have enormous effects on the decisions people make - for instance tripling the sales rate of a call centre by adding just a few sentences to the script.
Put another way, lots of agencies will talk about "bought, owned and earned" media: we also look for "invented media" and "discovered media": seeking out those unexpected (and inexpensive) contextual tweaks that transform the way that people think and act.
Before founding Ogilvy's behavioural science practice, Rory was a copywriter and creative director at Ogilvy for over 20 years, having joined as a graduate trainee in 1988. He has variously been President of the IPA, Chair of the Judges for the Direct Jury at Cannes, and has spoken at TED Global. He writes regular columns for the Spectator, Market Leader and Impact, and also occasional pieces for Wired. He is the author of two books: The Wiki Man, available on Amazon at prices between £1.96 and £2,345.54, depending on whether the algorithm is having a bad day, and Alchemy, The surprising Power of Ideas which don't make Sense, to be published in the UK and US in March 2019.
Rory is married to a vicar and has twin daughters of 17. He lives in the former home of Napoleon III - unfortunately in the attic. He is a trustee of the Benjamin Franklin House in London and of Rochester Cathedral.